Is Your C-Suite Exposed?
Service: Executive Shield
Address doxxing, fraud, and real physical security risks to key personnel by tracking threat actors and identifying vulnerabilities.
Persistent Protection for Key Personnel
Are you being actively targeted? Nisos provides clients with the answers they need to make educated decisions about risk.

Monitor and Assess
Comprehensive executive vulnerability research, assessment, and monitoring, including clear remediation recommendations.
Reduce PII
Full-service removal of PII from people sites, databases, closed forums, and other web locations; take downs of impersonated social media accounts.

Reporting
Quarterly or monthly reporting of PII reduction and threat remediation activities.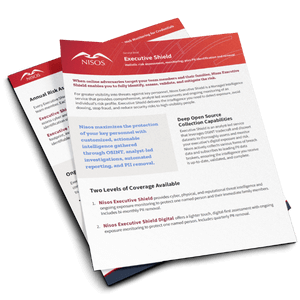 The 24-hour news cycle can do irreparable damage to an individual's reputation and significantly impact the organizations to which they are tied. Reduce the potential impact of a crisis by proactively monitoring for unfavorable information.
Do You Know How You're Being Targeted?
Nisos helps businesses find and remove sensitive information that may lead to reputational damage or physical harm. By tracking and unmasking threat actors on social media, extremist forums and within the dark web, you can shield your executives from unnecessary harm.
Do you know how these people and factors can hurt you or your business?

Ready to speak with an expert?