Threat Intelligence as a Managed Service
Benefit from Managed Intelligence
™
Offload resource-intensive threat intelligence tasks and technology to the experts in threat intelligence.
Analyst-Led and Client-Specific = Credible and Accurate Finished Intel
Turning threat data into actionable intelligence takes time, skill, experience, and the right tools. Nisos Managed Intelligence reduces the cost and burden of managing threat intel people, process, and technology.

Focus
53% of security leaders find their CTI isn't specific enough  to them
Intelligence focused on your threats, not vague or generalized threat data. We disrupt threat actors explicitly targeting you, your brand, and your people.

Expertise
35% of security leaders fear they are wasting time on the wrong threats
Subscription intelligence service providing access to analyst expertise. Our team of intelligence analysts and advisors work as your partner to manage threats.

Multi-faceted
79% of physical threats a business receives originate in cyberspace
Deeper, broader, and more comprehensive threat intelligence coverage. Unmatched unmasking capability and insights.
Free Guide: Navigating an Economic Downturn with Managed Intelligence™
Partnering with a managed threat intelligence provider, like Nisos, can help you overcome gaps in internal skillsets, focus efforts, and gain an outside-in view of your threat surface from world-class intelligence analysts. 
Download our guide to learn: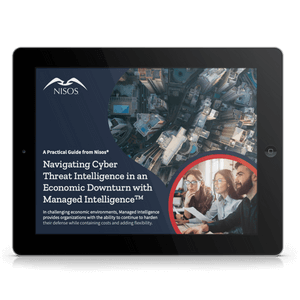 How the recession will impact operating budgets

What you can do to stop adversaries and maintain your threat intelligence resiliency

Why partnering with a managed service provider makes business and economic sense.
Intelligence Expertise-as-a-Service
Nisos helps businesses identify, analyze, and remediate threats across physical and cyber intelligence domains. Our services support cybersecurity, corporate security, trust & safety, physical security, and corporate reputation teams with finished threat intelligence to enable smarter defense and informed response to threats from motivated adversaries.
Intelligence is a Natural Fit for Managed Services
Threat intelligence is a critical element of any serious security strategy, but few security teams have the expertise or resources to tackle all the threats they face. 
Managed Intelligence fills a crucial gap by partnering with  people, processes, and technology to deliver superior threat intelligence as a service.  
You utilized other managed services to address crucial requirements, intelligence as a service just makes sense. 
Ready to speak with an expert?